TUESDAY BLOG: TOO MANY GOODBYES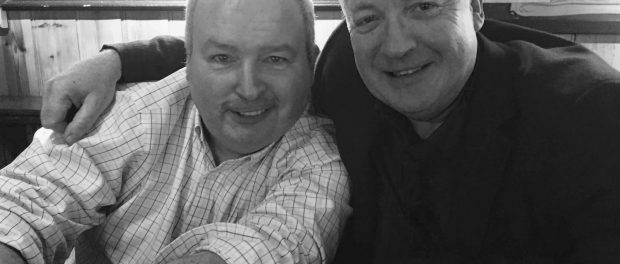 To Many Goodbyes
The dreadful massacre in Las Vegas highlights  another sad week.  We keep loosing people we love and cherish both public and private.  Last week news came of Seamus Kelters death and  a most moving tribute to his friend penned by Brian Rowan. This is part of that tribute: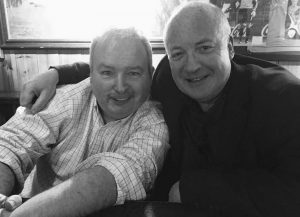 "On Saturday I walked those narrow paths of Milltown Cemetery in west Belfast with my long-time friend Mervyn Jess.
The sun was shining; not one of those days when the rain and the cold and the clouds arrive uninvited to add their sorrow and presence to death.
We had just left the graveside of Seamus Kelters and his burial after the most remarkable of masses.
In his own style and way, Seamus had written his own eulogy; delivered brilliantly and with so much love by his two sons Brendan and Michael.
In recent days, we have watched these young men perform roles of support that require so much strength, and we have watched their mum Camilla – Seamus's wife and soulmate – watch them and hold onto them with so much pride.
Seamus was just 54. He died on Wednesday after a short illness – a fight and a battle with cancer.
His journalist career spanned the Irish News and the BBC and he was one of the co-authors of Lost Lives – a book of a million words logging all the deaths of the conflict period; a book that in its detail remembers what many have long since forgotten. The funeral priest Fr Martin Magill spoke of its importance, how he keeps that book beside him on his desk.
It is a memorial to the victims – to all the dead – of a past that is still our present; unaddressed and unanswered.
Someone who called the BBC journalist Julian O'Neill this week, captured Seamus Kelters in just a few words, 'he had time for the little people'.
He had time for everyone, and they had time for him."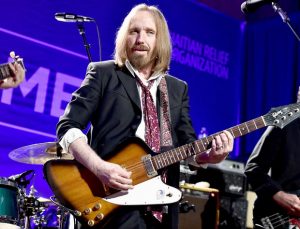 Far away yet near for those who loved his music, Tom Petty died in Los Angeles yesterday.  By all accounts a modest man held in high regard by his fellow musicians.  A little bit rock 'n roll, a little bit country and totally enchanting.  Famous for 'American Girl' and 'Free Fallin' with the Heartbreakers,  my favourites were 'I Won't Back Down' and even more so, when he sang with the Traveling Wilburys.  Bob Dylan, George Harrison, Jeff Lynn, Roy Orbinson and Tom Petty, what better line up could you find.  Go into U Tube and request 'End of The Line' and see these guys busk to their hearts content with an empty rocking chair where Orbinson would have sat had he not died some time before this particular recording.  Tom Petty was only 66 when his heart gave up and a legend was born.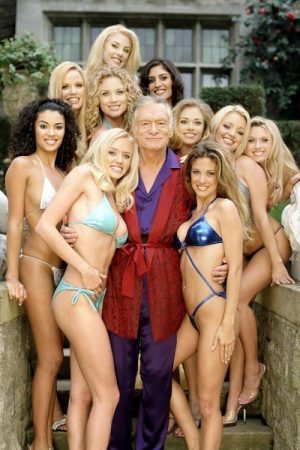 And then there was Hugh Hefner he was granted a longer life dying at 91 and being buried in Los Angeles beside Marilyn Munro.  Such mixed views about this man.  From the outside a businessman who made money selling images of women's bodies, even the women themselves some say.  But if you listen to the women who lived in Playboy Mansion, the lived a good life, he was a generous man who paid them a wage, educated them, offered them a glamorous lifestyle and any I have heard wouldn't hear a bad word said about their boss.  Just shows, here are two sides to every story.
Certainly on  our music scene the saddest goodbye of all was to Jackie Flavelle.
Jackie's death came as a blow to many people. Musician, broadcaster, family man, much loved for his wit and reminiscences of playing with the greats, especially Chris Barber, also Paul McCartney. Rod Stewart, Bowie. Jackie was a character, his own man who was happy as long as his beloved double bass was in the back of the car.  Tributes came in from all arts and part.
Chris Barber send me this message, and gave a little insight into his own background:
"Dear Anne.
Jackie was a good friend and a fine musician…..
I enjoyed his company not only for his musical ability but also because I shared his outlook on Northern Ireland (unlike many Englishmen?) because of my association with Ulster through Ottilie Patterson, my wife in those days and also because half of my family was headed by my Great Grandfather, who was head of a Presbyterian congregation at Tidavnet, Co. Monahan but left for England a few years before the Famine…….there were apparently two complete separate Presbyterian congregations there then (around 1840, I think).  He left for England and unexpectedly enough found a place in the Church of England!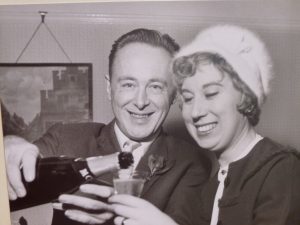 Tidavnet which I visited in about 1955 with Ottilie was just a Town-Land by that time!
Jackie had a great command of the Blues/Gospel music which he and I loved and played excellently the String-Bass and Bass-Guitar for my Band from 1967 to 1977 and again from 2010 until his health defeated him
I miss him……………..Chris Barber"
Not long ago broadcaster and journalist Stuart Bailie sat with his friend and recorded his remarkable life story, how he played the flute in the school orchestra at Inst. But the bass became his instrument of choice and it served him well as he played his way round the UK, Ireland, Europe and America. It ended up recently In Newry working with Ciaran Lavery on his mini-album, 'A King At Night – The Songs Of Bonnie Prince Billy'.
"I knew that was my last kick of the ball. We went down to this tiny studio near Newry and I put the bass on these Bonnie Prince Billy songs. It was quite nerve-wracking in a way, but I got away with it, I'm on it and it sounds good."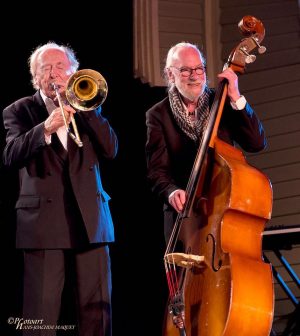 It's lovely to get messages giving detailed background and history of the jazz scene.
Trevor Courtney, now living in Germany,  was a class mate at 7 years of age.
"I first encountered Jackie Flavelle at the Boys Model School on the Cliftonville Road in Belfast. He was living in Hillman Street off the Antrim Road and I in Jaffa Street off the Crumlin Road. He sat behind me in Mrs McDowell's class and whistled and hummed tunes the whole day long. He played the flute in a marching band at the time. I was learning piano, so we had a common interest even then , Music.
We both managed the 11 plus exam and went to Inst. (Royal Belfast Academical Institution) where we were in the first year- Schoolmaster's name "Caesar" Whelan, who taught Latin as well as being our Form master. Halfway through Grammar school Jackie went to live in Donaghadee. Where he returned to after the Chris Barber years in the late seventies, more later. We both learned Latin, French and German as well as the usual other subjects. The foreign languages were to become an important item in mine and Jackie's career. (Mainly German)
Jackie started playing bass in the then popular "Trad" jazz scene and graduated to Dave Glover's Showband. Remember seeing him at the Arcadia Ballroom in Portrush, where lots of teenagers went at holiday times.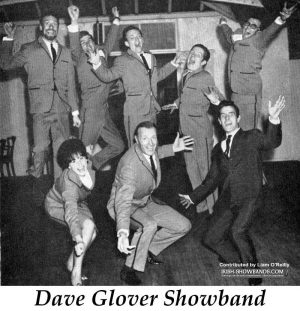 Liam O'Reilly Irish Showbands.com
I took a different direction going to work as an apprentice in the then very busy Harland and Wolff's shipyard.
Our paths crossed now and then in the Jazz Scene, where by then I was playing Banjo and Trombone on a hobby basis. This way we kept in touch. Jackie then got an offer to play with Chris Barber in the late 60's and took off to live in England and we met when he was home once in while. I was playing in the popular White Eagles Jazz Band at the dances in Inst. and the Tech.
We sort of lost contact until I got phone call sometime late 70's. This person started the conversation by reciting in alphabetical order the names the pupils in my first form class at Inst. I then asked "which one are you?" He said "Jackie Flavelle and I'm starting Jazzband and I want you to play trombone!!" I said "I'll look in the roofspace and see if I can find it" So he had got a job as a DJ / presenter on Downtown Radio and had sold the idea of a Downtown Radio Jazzband, comprising mostly hobby musicians from the local Jazzscene. We had occasional star visits from Chris Barber who at the time was living in Deanfield, Bangor with his wife Otillie Patterson.
Our musical paths parted again, I went to play with the Ravens Showband who were based around Lurgan and had more gigs than the Jazzband.
However one night sitting Jackie's house in Donaghadee, with his now deceased wife Noreen, I'm fooling around on the piano and Jackie playing guitar, he said "wait till ye hear this wee song I wrote" I said "would ya mind if I recorded it?"
So off to the boys in the Ravens and Trevor Dickson (sax player with the band) said I'll go and see Billy McBurney and his recording engineer Cel Faye and see what we can do. The song is called "My home in County Down" . Jackie wrote it on returning to Donaghadee and has a certain poignancy each time hear and play it.
One of the lines in the song goes…."I've a picture in my jeans of a girl they call Noreen (Jackie's wife) and an old record of Johnny Cash singin' Forty Shades of Green"
So Jackie gets a call from Chris Barber about 7 years ago "I need a bass player" and Jackie said "OK", so off on the road again.
Jackie and I had seen each other only occasionally in the 80's and 90's because my career in engineering had taken me amongst other places to Germany from whence this email comes….I'm still half there.
Anyway I come home every so often and play guitar in Donaghadee with Roy Lyness and friends in Pier 36 which gave me a chance to catch up with Jackie.
Of course Jackie and I always met when the Chris Barber Band were in Munich Germany and places nearby. Our foreign languages in Inst. Had paid off. Jackie still spoke passable German, (Chris Barber of course totally fluent)
On a closing note, I had a call from Shirley Gault some weeks ago to inform me of Jackie's (terminal) illness, so when I was home in August I went to see my old school friend at his "Home in County Down" not realising that this would be the "Last Farewell" Unfortunately a musical commitment prohibited me from being at his funeral on Thursday, but heartfelt condolences to his two daughters and their families.   Trevor Courtney"
George Jones met him in 1965 when he replaced Jackie in the Dave Glover band. "I was only 20, his advice and help was invaluable, I will never forget what he did for me. An absolute gentleman."
Singer Trevor Kelly's memory goes back to Butlins Mosley when as a teenager he won a twisting competition with a girl called Noreen, the girl who was to become Jackie wife! "He loved that!"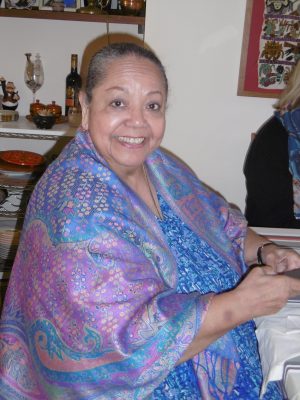 Candy Devine worked with him in Downtown Radio.  From her home in Australia she asked for this to be included in the tributes.
"He loved to laugh and talk 'shop.' He adored his beloved, departed Noreen and daughters Lisa and Melanie and music was the staff of his life. My former colleague and friend has left us to make music with his other departed jazz and blues buddies particularly Monty Sunshine and Ottilie Patterson. Jazz and blues will miss you Flav and so will your friends and the muso fraternity. RIP and my deepest sympathy to the family."
Trevor came home for  a showband night in the Queens Hall Newtownards on Thursday where he and the band  performed  "Home in County Down" as a tribute to Jackie.
Jackie's fan base is immense not surprising over 60 years. He started his career with Glover in the Arcadia Ballroom in Portrush and my last time my heart leapt to his music was in the Waterfront Hall two years ago when he was in Barber's line up, people were dancing in the aisles and the double bass vibrated through the auditorium. When introduced to the audience there was a huge ovation for the local man.
"I love everybody," he told Stuart. "More or less! I can't think of anyone that I really hate. Even ones that do me down, I just laugh it off."
And what advice did he give young musicians wanting to go on the road.
"Well, I tried to talk my grandson out of it and it didn't work. It's in the DNA!"
And when his friends held a benefit gig for Jackie at the Balmoral Golf Club in Belfast, he conducted proceeding from his wheelchair, and his grandson was there playing drums and bass!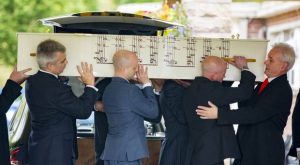 Jackie Flavelle died aged 78  at his Co Down home and was buried last Friday surrounded by the music and musicians he loved.
He is survived by his daughters Lisa and Melanie and three granchildren and we send them our love and sympathies.