WEDNESDAY UPDATE BLOG: CLOWNS, WIND AND THE BLACK DOG OF DESPAIR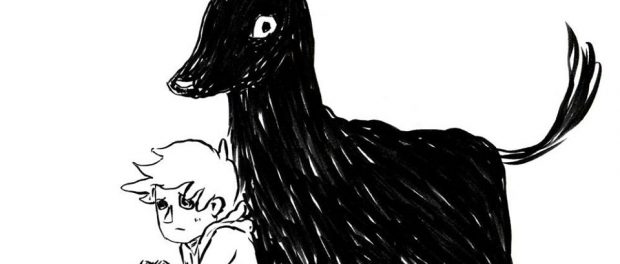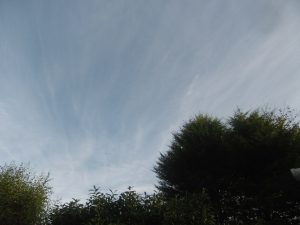 So the storm/gale/hurricane or whatever it was has passed.  The sky is clear but for a few wispy clouds high up and the sun is shining but there are hundreds of people still suffering the effects of the high winds.  Three people died because they didn't heed advice and how terrible for their families.  The damage has been considerable and many are without electricity.
But for  others it was just a strong wind, nothing unusual and certainly we've battled through worse to get to work, school, shops or in Houston Marshall's case, to medical appointments.
"I had two medical appointments in the same building The first at 2pm I recieved a telephone call at 10 am to tell me it was cancelled because of adverse weather conditions! I think Ophelia hadnt hit land at that point !! I called the receptionist of the 2nd appointment to be told that they were soldiering on no matter what the weather would throw at them reminiscent of the wartime blitz spirit. I could almost hear "Land of Hope and Glory" playing in the background.
So thankful that I would have an extra hour and half to myself I set about doing houswork only to get a phone call to say they had recieved orders from "the Board" to close early but if i could risk it they were seeing patients over the normally closed lunch hour !
I went down to the health centre to be met by a scene from a post apocalyptic movie. All non essential staff had been sent home . To save the doors rattling and because flying leaves were triggering the motion sensors on doors they were left open and litter and leaves were blowing around the ground floor and a stray dog was wandering around the place!! This was 3 hours before the eye of the storm was supposed to hit!! There were that many people to be seen I actually was seen by the doctor 35 minutes after my original time !!! To keep us amused a local radio station blared at full volume telling us what had happened down south this morning and a harbinger of doom kept interupting telling us what we could expect and what buildings were being converted into emergency shelters !!!! People kept popping in to tell us what shops had run out of candles and bread !!
When I came out it was as if
The population of east Belfast had been abducted !! Every shop and place of business had been closed. It was total over kill !!
Dont get me wrong I am grateful we didnt suffer any great hardship and loss of life as in other parts of the world but have spent the evening wondering what if there had of been an emergency or something was urgently needed ? I didnt see another human being or any where open that I could have gone for help in the Post Apocalyptic world of east Belfast lol"
And what does this weekend hold.  More hype and high winds!
Magnificent Smerinthus ocellata
but you'll only find him and his colleagues on a tee-shirt at this time of year.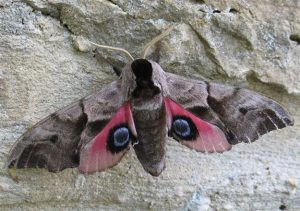 More often called the Eyed Hawk moth seen from May to July, with occasional partial second generation from August to September.  The pink hindwing are decorated with black and blue 'eyes', used to scare predators.
I've given moths a hard time over the last few week, undoubtedly the cloth eating ones, small and brown and in the house,  are a nuisance when they get their teeth into nice woollen sweaters, they just love a feed of cashmere.  But moths are vitally important and, if you take the time to look closely at them, very beautiful.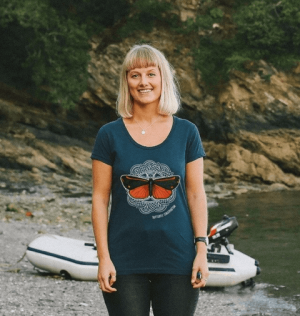 Their colour are subtle and more of the night and moonshine whereas butterflies are more of the day and sunlight.  I wonder did you celebrate Moth Night last week?  I always know when my cousin Pamela Tomlinson is recording as she uses the proper equipment and the white light is a giveaway that moths are flocking to her humane trap to be officially counted, recorded and released.  I've joined her in the middle of the night and it's a whole new and fascinating world.
This message from Pamela:
"Just a few October moths last night – three lovely pale grey Blair's Shoulder Knot along with two other macros. Light Brown Apple Moth and a lovely Rose Tortrix competed the moths in the trap.
No need to worry about these well camouflaged moths – if they come into the house the kindest thing to do is pop a glass over them and then slide a piece of card to close the moth into the glass. Next release it into the hedge or a large bush – away from the cheeky robin!!"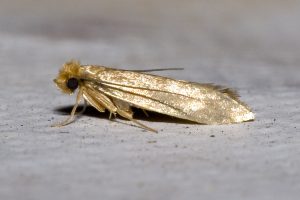 moth eating Tineola bisselliella
This message is from the butterflyconservation.
'Whether you are an experienced moth recorder or a newly converted enthusiast, you can show your love for moths all year-round with our new clothing collection.
All our eye-catching designs are made from super-soft 100% organic cotton and produced in an environmentally friendly wind-powered factory.'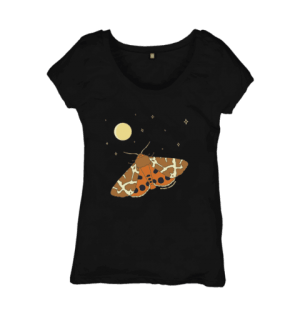 They cost £19 and butterflies and moths benefit from every sale.  See the designs at butterflyconservation.leemill.co.uk
What Is Mental Health?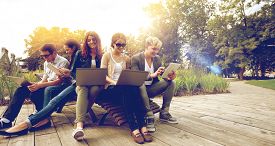 Students Are Very Vulnerable To Mental Health Issues
In order to understand 'mental health' before meeting with Dr. Michael Doherty vice chair of the Royal College of Psychiatrists in Northern Ireland, I drew myself a diagram –  a circle in the middle of the page with Mental Health written inside, another circle to the left marked 'no significant issues' and one to the right marked 'issues and conditions'.  Below the middle circle I wrote  '25th World Mental Health Day' which was held recently, a day when organisers promoted understanding of this subject and how to deal with it better.  This year's theme 'Mental Health in the Workplace – Help is at Hand' covers almost every eventuality.
The circle on the left contains issues of every day living, some age related, others lifestyle.  As you get older forgetfulness is common, a long life tires the brain and it's harder to re-member all the things you have learned.  But it isn't necessarily dementia.  There'll be sadness as friends die, you'll feel lonely and isolated, fear may be present as you think of your own death, those you'll leave behind, all quite natural.  Lifestyle throws up problems for everyone, it's getting faster and it's more difficult to keep up – that equals stress but not necessarily a mental health issue.
The issues arise when you are no longer in control of that stress, anxieties begin to dominate your life, your memory deteriorates until you can no long make sense of everyday living.
These are the everyday basics rather than more serious conditions which need specialist attention, these are the first steps when considering common mental health.
"Although no two cases are exactly the same, there is universal advice.  Don't suffer in silence." says Dr. Doherty,  "If you or your family think something is wrong go to your doctor.  In most cases the surgery will have your history, the doctor will listen carefully knowing your heath background and more often than not give reassurance, check for a simple physical health cause, give advice on lifestyle, treat common mental health conditions themselves or refer for specialist help. Managing a mental health issue is all important and remember every issue can be helped.  Learning what triggers stress or anxiously and being able to rationalise and control what's going on is vital.  You need to be brave to take the first step because unfortunately there can be a stigma about mental health, what will other people think of you if you carry this label, will your family support you, will you be able to cope if there is something seriously wrong? Do not let this put you off."
Severe conditions like schizophrenia, Bi polar and Autism need specialist attention but with more common conditions the GP can deal with these, often involving the family and carers.
Theresa May's promise to review the Mental Health Act is good news because at the moment routine waiting lists with community mental health teams can be up to three or four months which is a long time to wait if someone has a significant mental illness.  It's even longer if the referral is for specialist cognitive behavioural therapies and counselling. Undoubtedly more investment is needed although people who have suicidal ideas or are very ill can be seen much earlier than routine appointments and on the same day if necessary.
Young people need to be carefully guided and supported with all the stress they have to endure from school, through exams to further education and into the workplace, communicating on i Phones and tablets rather than talking,  university and college students leaving home for the first time and trying to fit into a new pressurised way of life, new friends to be made, juggling with study – it's called peer pressure and it throws up a lot of concerns and  can lead to hiding behind a bottle or a drug, then the spiral is really downward and can lead to terrible consequences.  Too many young people take their own lives for whatever reason but stress and anxiety must be in there somewhere.
And look at people after retirement.  From being in a position of responsibility and respect they often see it as being on the scrap heap and so life can get a bit out of hand, taking up new friendships regardless of other relationships, drinking with 'the boys', indulging in a new lifestyle to try to recapture the glory days.  It doesn't usually work and depression sets in, certainly a  common example of unhealthy mental health.


If you break a leg it's comparatively easy to treat because it's 'physical' health and there's an acceptable name for your ailment.  With 'mental' health there seems to be a resistance from the public to be tolerant and understanding.  The media too get a bad press for often giving the wrong slant.   Dr. Doherty would like to see more dialogue between media and professionals although this is already the case with many dramas featuring specific illnesses.
Wellbeing is a word that comes into our conversation .  "It's important to be aware, handle problems rather than avoiding them, look for warning signs and take action, take regular exercise, good food, sleep is import, don't abuse alcohol or drugs.  Unfortunately some people will develop mental health problems despite healthy lifestyles and it's vital that they seek help when needed."
We were talking at the RCPsych in NI headquarters in Clifton House in Belfast whose history is steeped in efforts to assist with mental illness.
"Even 25 years ago most mental illness was treated in large mental hospitals but now it's in modern inpatient units, integrated within the health service and social services or by a home treatment team.  Most people think it's hard to treat a mental illness, it's not.  There's a treatment for nearly everything whether severe or not.  Don't hesitate, there's help out there from voluntary groups, your GP and specialist services."
Important information:  Life Line 0808 808 8000 confidential service and trained councillors 24 hours, seven days a week.  Questions answered and lists of leaflets at  mentalhealthservices.nidirect.gov.uk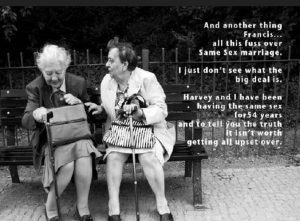 And another thing Francis .. all this fuss over same sex marriage.  I just don't see what the big deal is.  Harvey and I have been having the same sex for 34 years and to tell you the truth it isn't worth getting all upset over.
On Your Broomstick, Ticket Are Going Fast
I went to Crumlin Road Goal last Wednesday for a quick look at the Hallowee'n paranormal experience followed by the Jail of Horror.  No spiritual fun and the horror was quite horrible.
The publicity talks of Belfast's oldest prison offering a terrifying experience  guaranteed to scare even the bravest of visitors. 

'The chilling Halloween Paranormal Experience will include real life experiments with paranormal investigating equipment, where you will get to visit the various hotspots of the Gaol where paranormal activity has been reported and sighted – get the chance to visit areas including – the Tunnel, Gaol Circle, C-Wing, Hangmans Cell, Drop Cell, Gaol infirmary and more.
The drop cell was chilling, the noose hanging from the original beam, our little group were very silent, lost in contemplation.  Probably unfortunate timing but just then an ice cream van passed down the Crumlin Road playing it's merry tune!
The horror jail was horrid and the warning is important – not suitable for young children, age limited recommended 16  or if you are easily scared.   But, and a big but, when one young boy came out in a dreadful state, shivering and crying and talking about the clowns, he was terrified especially as they picked on him to sit on the chair.  Can you imagine having a phobia about clowns (very common) and then, all of a sudden out of the darkness come two 'It' type horrors.  I have pointed out to the organisers that a special warning should be given that clowns are part of the journey.   They are considering this. Screaming and moaning, horrible characters jumping out of the dark shadows and lots of other little delights make it a memorable visit.
Billed as Belfast's number one scare attraction seems to me an accurate description, they've done a good job.
Tickets are selling out.  They can be bought online at www.crumlinroadgaol.com or by calling the Box Office on 028 9074 1500.
Batten down the hatches!  If all the forecasts are to be believed, tired Ophelia will be making her presence felt very soon.  As I type there isn't a breath of air, it's uncanny and very warm.  Sort of ocher light, a sense of foreboding.  Keep safe, light the fire and be sure you've a big box of chocolates to keep your strength up!