SUNDAY BLOG: THE MOON, THE SEA AND PAUL REVERE.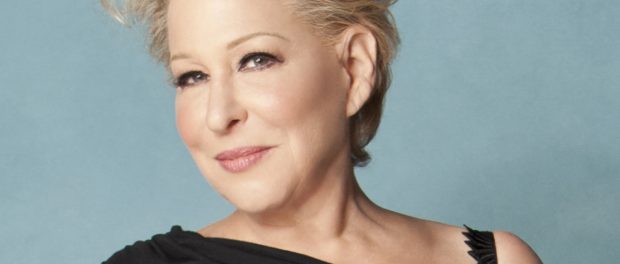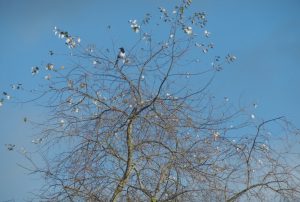 Leaves almost down and out and it will be no time until the green shoots appear again, time goes so quickly these days, Christmas in five weeks and pantomimes sweeping us off our feet.  Not a great fan but I'll tell you what is fantastic and that's Orla Mullan's one woman show An Evening With Bette Midler.
The Divine Miss M
Sadly almost the end of the tour, Ballybofey today, Strabane on 24th and Down Arts Centre on Saturday 25th November.
Orla Mullan and Bette Midler are one and the same, hard to know where one begins and the other ends. At the Island Arts Centre in Lisburn last Thursday night a full house in the Studio were entranced by this local artist, actor, singer, and comedian who was the Devine Miss M for 75 minutes without a break and she had us laughing, crying, one minute clapping along the next in total silence. Called after the film star Bette Davis, Midler was proud to show off her 'pretty legs and great big knockers'! She is a very forthright woman, calls a spade a shovel in no uncertain terms.
She asked us why we were there, and before we could think of a reply Miss M answered for us – 'To celebrate me!' And we did. We learned about this Jewish kid born in Hawaii who worked as chief chunker in a pineapple factory, 'a buxom little bomb shell'. She talked and sang us through her career, the characters who travel with her, Sophie Tucker and her jokes about Ernie, Delores with her fish tail and the rest. Barry (Ryan Quinn) her musical director and pianist joined in the fun and was an important part of Midler's act.
But be sure, it's Orla who is the diva here, she has studied Midler, she has her voice and intonation to a tee, all her mannerisms. No use of blond wig or sparkly dress, just a talented woman in her bare feet surrounded by red rose petals, dress and jacket working in a cloud of ever changing coloured dry ice  rejoicing in her chosen character and she can sell a song. The Rose, The Wind Beneath My Wings, From a Distance, what a night. On the way to the car park a lady, on her own, told me she cried when Orla sang The Rose and how a young girl beside her took her hand and said, 'Isn't it just beautiful'. It was.  From a Distance has special meaning for me as I used it in a film story when I was in The Sudan and the words conjure up scenes of famine and war, that soulful song reduced me to tears.  A powerful thing to be able to do with a voice and a few well chosen words.
This show will take an already busy actor all round the place so make a point of catching her, I promise you won't be disappointed.
Men of Letters
I'm sad the Post Office is loosing custom and profit, profits down 30%. not surprised though. Certainly there are problems with unions and the pensions dispute continues and certainly our postmen and women are having a tough time.
It appears the company is in the process of moving workers on to a new form of 'defined benefit scheme', but has faced stiff opposition and Terry Pullinger, deputy general secretary of the Communication Workers Union, said he would rather "smash Royal Mail to bits" than back down in his attempts to block the move.
Nice attitude.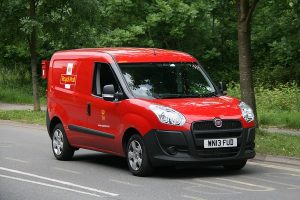 Moves Afoot
Christmas is crucial and Royal Mail are apparently opening six temporary sorting centres and bringing in over 20,000 staff to slift through parcels and get them on the way to customers asap.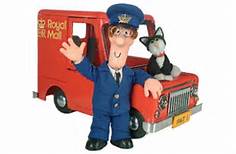 I hope this works because Mr. Postman Pat is a lifesaver to so many especially in rural areas, how many times have they noticed something amiss and found an elderly person ill or having fallen and been able to alert neighbours. Through the years they have brought joy though letters and cards, even exam results, for good or bad. I have to admit I use mail order a fair bit, it's quick and saves trawling round shops, I've just found the exact fine liner pen I've been looking for, pack of five for £12.85 no postage or package and delivered in a couple of days – not via the Post Office but by a man in a white van.
It's a dilemma and I feel badly about not supporting the PO more but there is little option. To close our local POs is not helping their cause, good idea combining with a convince stores but why is it impossible to get a range of forms the way it was at one time. Certainly it's now possible to withdraw money and that's great but stamps are a dreadful price, first class 65 pence and second class 56 pence – almost eleven shillings in old money. No wonder e-mail has been such a success and people like me will ring friends and wish them a Happy Christmas and give what I would have spent to the Children's Hospice.
A long way from Paul Revere's Ride. An American silversmith, engraver, early industrialist, and a patriot in the American Revolution who is best known for his midnight ride from Boston to Concord bringing urgent news to the colonial militia  warning of the approach of British forces in April 1775 before the battles of Lexington and Concord. No stamp required on that letter!
More Bad News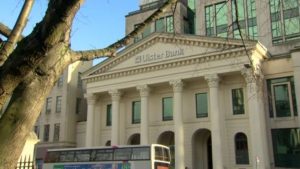 And then there are the bank closures. Imagine, when the Ulster Bank implement their 11 latest shutdowns, there will be no banks in Rathfriland, Stewartstown, Killyleagh, Moira, Portrush, Dungiven or Castlederg. People will have to travel miles to transact their business and that isn't easy for anyone but more difficult for the elderly than for younger people.
The micro chip has a lot to answer for. we are well and truly in the digital age with all the pluses and minuses this brings.
Blue Moon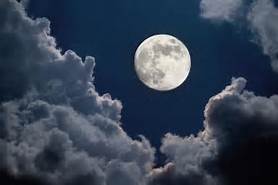 A couple of weeks ago we had a real treat with a huge moon hanging in the sky looking cold and icy, long gone is the glow of the Harvest Moon.  In November it's named the Full Beaver Moon, an American title heralding the time to set beaver traps before the swamps freeze simply to ensure a supply of warm winter furs. Please note, not a fashion statement, a necessity!  In our part of the world it's know as the Frosty Moon for obvious reasons.
It prompted the question – what is meant by 'once in a blue moon'?  "I know it means not very often," said my friend, "like I have a cream cake once in a blue moon or I might see my friend Pat once in a blue moon but what is a blue moon? "
It's fairly straight forward, simply the rarity of a second full moon to occur in a single calendar month.  Then it gets a bit complex with the technical explaination:
'The average interval between full moons is about 29.5 days, whilst the length of an average month is roughly 30.5 days. This makes it very unlikely that any given month will contain two full moons, though it does sometimes happen.  On average, there will be 41 months that have two full moons in every century, so you could say that once in a blue moon actually means once every two-and-a-half years.'
All At Sea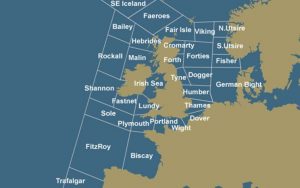 Something I am fascinated by is the shipping forecast.  I remember years ago doing my deep breathing to 'Sailing By', the music before the announcer talks us through the late night weather conditions in sea areas round the coast.  Although all the continuity announcers at Radio Ulster took their turn, June Nightingale put a special twist on the run down.  She read it like a chapter from Fifty Shades of Grey!  I bet the fishermen and salt sea sailor men loved it, her sultry voice rose and fell with innuendo – Fitzroy and Malin took on a new meaning and as for Bailey, well he was something else!  But where are all these places with strange sounding names?  Here's a map which will put them all in place.  Quite good for a Christmas quiz – where is Cromarty and what on earth is German Bight!
Want an adventure?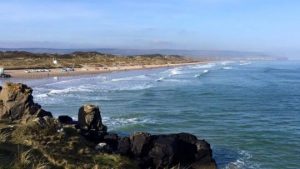 I had a really great day when I joined friends on the 10.20 a.m. train leaving Great Victoria Street for Coleraine calling at York Gate for me to jump on board and then half a dozen more stations before arriving at Coleraine an hour and 20 minutes later.  A delightful journey.  Day ticket £12.30 return – or nothing depending on age!
From there out the station door, straight onto a bus and off to Portstewart.  Short journey, jump off walk down the hill to the Strand and into Harry's Shack.  This is a log cabin, grass on the roof and a big timber burning stove giving out comforting warmth and that lovely smell of toasted wood.
The Shack seats about 40 and on our day it was well filled with young couples, families, older couples and three girls resurrecting their youth and memories – us!   Although mainly a fish restaurant, being a vegetarian most of the time, I was delighted with my panna cotta and toasted vegetables followed by a delicious risotto and then a chocolate sweet with an ice cream topping.  All of this plus a glass of white wine cost £24.80.  The other two had two starters each so their bill was much less.  Adam looked after us and congratulations to Donal Doherty from Buncrana who has opened this his latest restaurant in a spectacular spot, sitting on the edge of a very boisterous Atlantic, huge waves that would delight any serious surfer.
Back to Coleraine by taxi – £10.80 – onto the comfortable smooth running train and home for tea.  So easy and if you happen to have a bus and train pass – cheap as chips.  Thank you Translink.
The A Word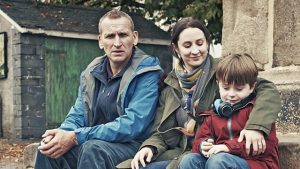 It must surely be beneficial to have a programme like 'The A Word' on television  for the next few weeks.  The first series last year introduced us to seven year old Joe played by Max Vento, who is now eight.   Joe is Autistic, he has strange little habits like opening and closing doors a couple of times before going through, wearing headphones and singing along with pop songs non-stop, challenging his parents to name the tune.  He's not communicative, he lives in a world of his own.  His mother seems slightly ashamed of his condition and very frustrated that she can't do anything about it and his father is totally supportive and accepts Joe just the way he is whilst gently trying to coax him to take an interest in everyday life.
They live in the beautiful and remote Lake District where he goes to a local school, hardly typical.  So what is it like to be Autistic and live in a bustling town, shops to deal with, roads and traffic, the noise, the rough and tumble of strangers all around?  And what about brothers and sisters?  Often they are the ones who can best establish a connection.  Of course there are degrees, a spectrum of severity but all those with Autism need not only love but understanding and patience from all of us.  How often have you seen a child or young person misbehaving and you think that simply isn't acceptable behaviour, why is that mother not reprimanding that little or big son or daughter?    It's not easy as I'm discovering as I talk to parents.  More about this next week.     'The A Word'  is on BBC Tuesday 9 p.m.
Finally, greeting to my friend Sheelagh who is a bit under the weather.  This is for you – except for the turkey, it should read swan!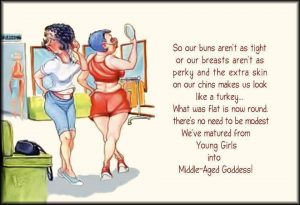 So our buns aren't as tight or our breasts aren't as perky and the extra skin on our chins make us look like a turkey .. what was flat is now round, there's no need to be modest, we've matured from young girls into middle-aged goddess!