SUNDAY BLOG: Threats and Treets In The Garden And An Upside Down World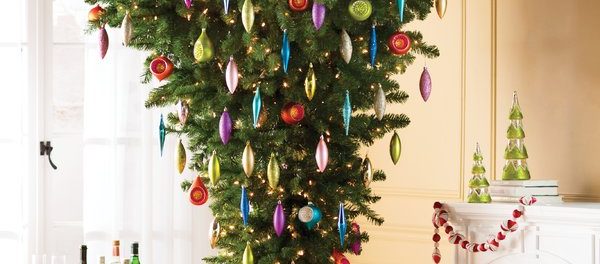 What Ever Next?
When it comes to Brexit I've lost the will to hear more, it seems to me this is a big game being played by very astute or stupid people, I'm not sure which.  Children's futures are at stake here, wise up and get this sorted.
With America waiting in the wings to flex their muscles, Russia wondering how best to retaliate to their sporting exclusion and BBC putting on a 'gay sex drama' on Boxing Day just when the family is settling down to relax in front of the fire. However, they have redeemed themselves somewhat by scheduling the start of a three part adaptation of Little Women on the same day.  All this and storm Caroline to contend with.  Happy days.
Attisu…. Attisu …. We All Fall Down!
It's that time of year when the 'cold' strikes to some degree or other.  Having sneezed most of the week I've a suspicion that tissues are thiner than ever.  I've had to buy a variety of boxes and it's the same with them all, one sneeze and it's done not even enough of it left to have a good blow.  It's the same with kitchen rolls.  I've checked this out with others who confirm there seems to  be a concerted effort by manufacturers to save money on quality.  It's become obvious in chocolate bars, although I don't indulge in whole nut chocolate any more there was a time last year when there was only three nuts in one bar I bought and I complained!  I was told there was a world shortage of nuts!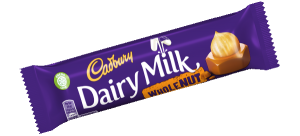 I woke up this morning to the rolling news of the world falling apart and, although I won't be popular for saying so, I feel really sorry for Theresa May, what a poisonous cup she sips from at the moment, and reports that someone plans to murder her, I just wonder where we will all end up.  It's beyond depressing, it's frightening.
Growing up in a time of optimism and improving employment figures for most, the contrast of my early days of working in Ulster Television there was good news and bad but there was an atmosphere of hope for the future, the sun shone and the snow was crisp and even.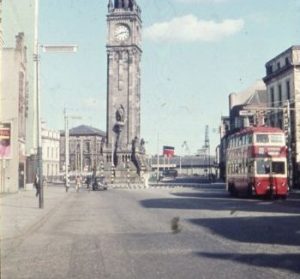 Fewer cars on the road, no mobile phones or tablets, freedom to go out at night into town to dance and not worry about attacks, 2/6 bought 20 Olivier cigarettes and the same (roughly 25pence) filled the petrol tank in the old banger shared with my brother.  We were teenagers and Elvis ruled.  Then The Troubles surfaced and the world changed for us all.  Hope surfaced again a few years ago, companys from round the world began taking interest, Bill Clinton turned on the Christmas tree lights and people came from all arts and parts to the Christmas markets.  I'm feeling sorry for myself!  Even the chiming clock on the mantlepiece has gone bananas, at five o'clock, six and seven it strikes 11 and I can't fix it and this morning the squirrel is terrorising the little birds round the feeder but he is very sweet!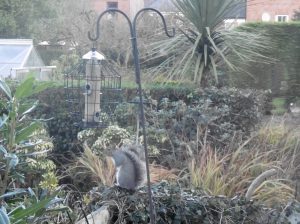 Having said all that it must be recognised that there are plenty of young people who are excited by life, who are prepared to seek out employment or set up their own workplaces proving the resilience of the people of Northern Ireland.  They go to dances and they sing along in pubs and they are friends no matter the background of their traditions.  We must build on that.
And spare a thought for the little two year old boy jabbed by a syringe in Paris airport.  His family here have to wait for a year before he gets the all clear from life threatening diseases.  What awful pressure.
How Does Your Garden Grow?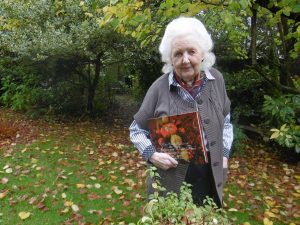 If you think the garden is a dreary mess at the moment, I'd agree with you but Sandra Carson thinks otherwise. Wherever she looks she sees possibility and all her ideas are put tougher like a beautiful bouquet in 'Autumn and Winter Flora', her book on flower arranging – tips, how to press leaves between sheets of toilet paper, painting warty gourds, wrinkled walnut and crinkled passion fruit. vegetables. fruit. foliage even beetroot leaves and feathers make up her palette at this time of year and the results are breathtaking. As we sit by the open fire in her home near Galgorm, she puts on a log and surrounds it with crackling pine cones that have been discarded because they aren't quite perfect for a display but just right for the fire and sending out an aroma of pine.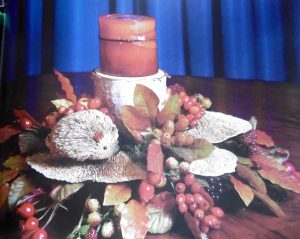 There are flower arrangements everywhere, the kitchen table is a riot of gold and silver for Christmas concoctions , works in progress.
Sandra grew up Coleraine where she and her sister Pat helped her parents who grew their own fruit and vegetables so a natural interest was awakened. When the family came to live in Ballymena they had more ground, more garden and for the young Sandra a stretching of the imagination as she came to love nature. "I made a world for myself, examining creepy crawlies, learning about wild flowers and beginning to draw and paint." She was fortunate that teachers in school soon recognised her artistic talent and encouraged her to enter flower shows. She made arrangements in old casserole dish and placed them on the staff dining table and so impressed was the headmistress she allowed this gifted pupil into her private china cabinet for delicate containers.
Although she told the careers teacher she might go on to study archaeology, Sandra was always destined for the world of art and ended up teaching art at the Girl's High School in Ballymena and her painting and drawing classes soon included the artistry of flower arranging.
The word spread until she was asked to run a course for teachers so they in turn could bring the subject to primary and secondary school children and in this way she passed on her joy and creativity to young ones.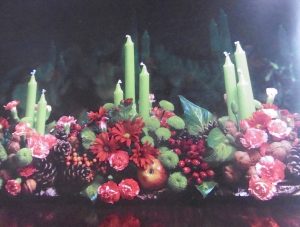 But since a teenager Sandra wanted to attend the Constance Spry Flower School in London. Spry was her hero, a woman who arranged flowers for the weddings of the Duke of Gloucester and later the Duke and Duchess of Windsor and was commissioned to do the flowers for the queen's coronation not only in Westminster Abbey but along the processional route from Buckingham Palace. Learning from the Spry school, Sandra uses unlikely ingredients in her displays and this is one of her hallmarks which she developed when she attended Woburn Abbey School of Flower Arrangement.
All her learning came together after retirement in the late 80s when she established Country House Courses working in all the lovely old houses of the rich and famous, Colebrooke, Baronscourt, Castleupton amongst them and now, at 79 years of age, she's looking for a new project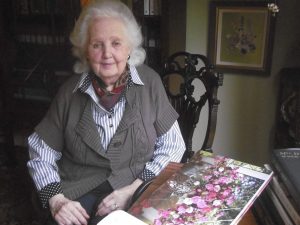 "The book was a mammoth task, the preparation was long and involved, at one time the kitchen was so full of materials I couldn't get to the oven, the microwave or the freezer for a week and usually ended up in Marks and Spencers for something to eat!" But it has been worth it. Although some of the more obvious outlets have not yet taken copies, garden centres just love to have it to display, especially at this time of year. Undoubtedly, with superb pictures by Peter Houston, this is a book to cherish, full of stories of her life, poems, Sandra's own sketches and painting and above all, guidance on arranging everything from flowers, trees, weeds and fruits.
Available from Cameron's Garden Centre Ballymena or from Sandra Carson (028) 2565 2905 . The book costs £30.
Who Is Harry String?
The pictures in Nick Cann's book, Come Home, Harry String, are vivid but they come through words, imagination and story telling. I feel I know Harry, poor man injured badly in a mysterious car crash in May 2008 on the main road from Enniskillen to Belfast, looses his memory and spends the next year trying to piece together his life. Is he married, was he married, who is Martha and why did she behave so strangely? And then there's Clive a member of staff at Camberhill. The book is filled with references to Holywood and Belfast, the QFT, a real journey round the city. Harry is 44 years of age, damaged but working hard to recover his full health and strength, he's a photographer with a great determination and a sense of the ridiculous. Not unlike the author.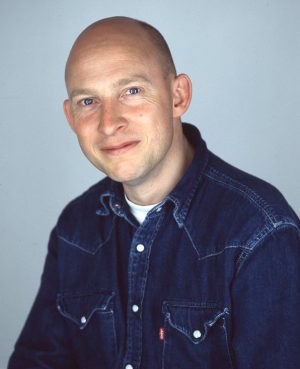 Nick Cann, a graphic designer, has the ability to work out plots in a fascinating way, loves words and includes lots of conversation in his writing. The characters come to life and when I'd finished the book within a day, I missed Harry String and I sincerely hope things work out for him in the future.
Nick, who was born in East Sheen Richmond upon Thames, can trace his ancestors back to Armagh but only came to live in Holywood having met a young lady from here. A man of many parts, Cann was once nominated for the title of Northern Ireland's Best Dressed Man and he featured in one of the more memorable episodes of 'Come Dine with Me', shot in Belfast. Now re-married with a busy life and two young children it took him ten years to complete the book – his third – but his forth book is now finished having only taken two months to write!
'Come Home, Harry String', £6.99, is now on sale at branches of Stewart Miller, No Alibis, Concern Holywood and can be bought online at indiego.co.uk.
Two very different books, two great Christmas presents.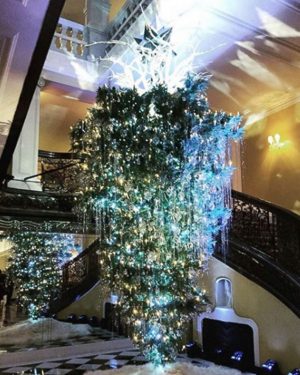 I think things will cheer up when the Christmas tree is in place and decorated.  It's begun already in houses up and down the country and it's lovely to see.  I was surprised to see the new trend is putting your tree upside down this year – not in this house!  And Mary and Joseph and the baby Jesus will be in situ as usual.  On the wireless this morning was a luxury interior decorator who was extolling the virtues of having blow up polar bears and never one penguin but fifteen.  Balloons and bows was his mantra.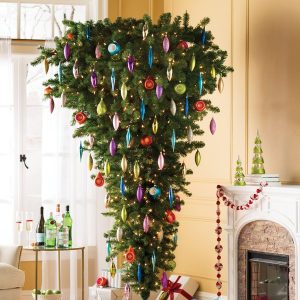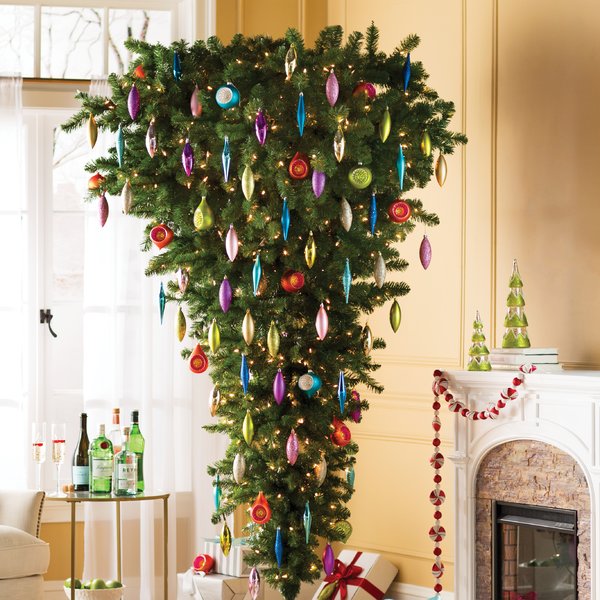 That's another thing about growing up, traditional Christmas seems to be slipping out of modern life which to my mind is a dreadful pity.  I talked to a man from Lithuania yesterday who told me about his home celebrations which is just family, family and more family.  Games, everyone helping with the dinner, singing and music far from the big business we are facing.
We mustn't  let the love of power take over from the power of love.