SUNDAY BLOG: HANDSOME MEN, LUSCIOUS LIPS AND ARLENE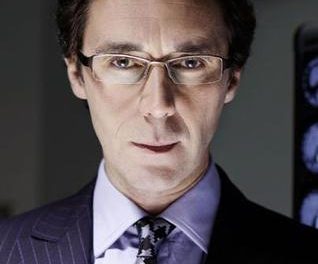 Superb Drama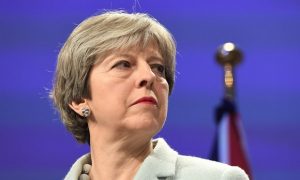 There's been plenty of superb drama this last week, Mrs. May dashing from pillar to post for better or worse but how does this woman keep going especially as she diabetic.  All this and the snow, the whitest I've seen since I was a little girl when everything was perfect.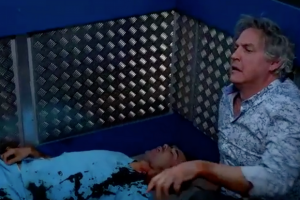 I was quite shocked with Holby City episode on Thursday evening.  I completely forgot it was a television programme, I was right there as the deliciously sexy Henrik Hanssen's son Fredrik roamed the hospital armed with his hunting rifle picking off people I knew and loved.  Real drama.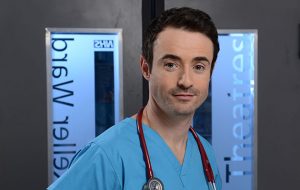 Raf di Lucca ended up lying dead in the lift and then he turned up safe and well as Joe McFadden in Strictly Come Dancing last night!  The power of the Strictly curse!  And there in the audience was a smiling Henrik masquerading as actor Guy Henry over excited and cheering him on.
The two part drama was superb, the acting, the script, the extras, the detail.  Strange that they were discussing the shootings on last night's sister programme, Casualty.  Talk about cross matching.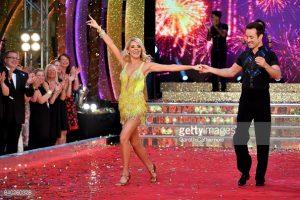 And good luck to little Joe who is proving to be as good a dancer as he was a doctor.
Pop Up Theatre
I saw Accidental Theatre Company's latest offering Michelle & Arlene last week.
'Holiday Special Planes, Trains & Tractors' written by Rosemary Jenkinson.  Interesting plot.  Arlene Foster has been busy recently and probably could do with a few days away but would she choose Michelle O'Neill as a travelling companion? According to playwright Jenkinson they could well be the ideal couple. Consider the scene.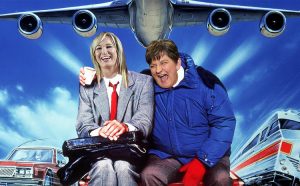 It's 22nd December, a time of goodwill to all men says Arlene, except orangemen, everyone hates them says Michelle.  But could it be that the two women might work out a resolution to the Assembly stalemate if they lock themselves away for two days in their Stormont office?  Better still, who would know if they bunked off through a window and took a plane to Bulgaria for a short 'getting to know you' break?  What would happen if their bags are stolen and they have to thumb a lift and eventually get home in the back of a horse box?  And how do we know that Arlene wears union jack pants and bra? And more to the point, who else knows!
This isn't a play, it's a pastiche, a romp with two actresses, Maria Connolly and Mary-Frances Doherty,  going at it hot and heavy.  As Michelle says, the longer we stay out of the office the more they'll appreciate us when we get back, we'll be super stars!  And are they?  Do they come up with a resolution? Certainly they bond and although not bosom mates before they were after their adventure, opposites appear to attract!
Clever script with references to topical events and people and a novel venue, a pop up theatre in Shaftesbury Square, a black area with chairs and stools, nothing fancy just an hour of silliness and a good laugh.
Directed by Richard Lavery.
You can join the fun on 21 and 22 December at 12 Shaftesbury Square.   More at https://accidentaltheatre.co.uk
You Pays Your Money And You Takes Your Pick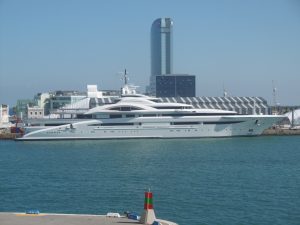 I met a man on a cruise ship. He was tall, dark, devastatingly handsome and most charming. Of course we got chatting – wouldn't you – but only because he was trying to sell me opal earrings! It transpired he led a fruitarian lifestyle, he had a hard sell with the jewels, equally hard when the he tried to sell me a fruit only diet!
A fruitarian menu is very severe, he only eats what falls to the ground from a plant hence his plate of apples, oranges, bananas and pineapple, always fresh and always raw, only foods that can be harvested without killing or harming the plant are acceptable, in extreme cases even grains are not included because they contain future plants! There are different reasons for adopting this way of eating, a return to simple living, to avoid killing any living thing and to detoxify the body.  Not suitable for children and take advice on vitamin supplements.
Compared to fruitarians, the vegan diet offers much more variety although it too excludes meat, eggs, dairy products and all other animal-derived ingredients. Many vegans do not eat foods that are processed using animal products, such as refined white sugar and some wines.  Therefore, if you are cooking for vegans or vegetarians over Christmas, it's important to check with them what is acceptable and what is not. I notice a lot of hosts do this automatically these days when inviting you for a meal and that is appreciated.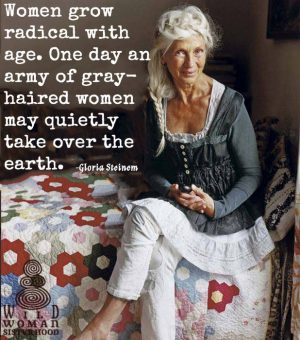 No longer is the vegan guest considered a blue stocking wearing a long floral frock, a bun and a circlet of wild flowers. The image has changed and with more and more people turning from meat based dishes, the annual Belfast Vegan Festival is gaining in popularity. According to Hannah Griffin, who's a member of the Vegan Society, the event is getting bigger year by year. "We have stalls and tastings, music and fun and people qualified to give advice about alternatives and intolerances."
Luscious Lips
One of the biggest beauty trends of 2017 is make-up using no animal ingredients or derivatives. Vegan lipstick is apparently excellent and because new formulas use jojoba seed or avocado oils they leave the lips hydrated and moist.
Hannah has studied nutrition and recommends everyone, not only vegans and vegetarians, should take Vitamin D supplements to make up for the lack of sunshine in this part of the world and a multivitamin containing B 12 for energy and to help in production of healthy red blood cells that carry oxygen round the body; she advises talking to your doctor if you do want to change your diet just in case there is any reason it wouldn't be suitable for you. "We don't yet have an organised group in Northern Ireland but I can answer questions for anyone who is interested."
Hannah's e-mail is hgriffin95@hotmail.co.uk
As a vegetarian most of the time, I find people are very ready to work round my routine and my delight is vegetables so even if I'm somewhere and being served a meat dish, there are always vegetables to enjoy without causing a fuss. My reason is medical, certain foods I can't tolerate however, I did have many years enjoying everything put in front of me – and that was dodgy at times especially in Africa and Bangladesh – but I enjoyed the lot. A vegetarian lifestyle is my choice now and I feel the better for it, no red meat festering inside is a plus.
I admire vegans, they stick to their principles.  No meat no matter how small and succulent as below!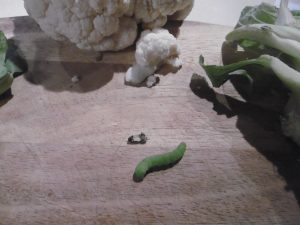 The new five pound note contains animal fat – and vegan and vegetarians are not happy about it. Whether the Bank of England take heed is another thing, certainly there was criticism from meat eaters scoffing they weren't being asked to eat the notes – just to use them!
Maria McCaffrey is manager of Souls Restaurant on Belfast's Dublin Road and at her Vegan Day Event recently I worked my way through a delightful five course meal, mini platter of 'aaloo tikki, pinwheel samosa, tofu tikka', then 'chilly gevan squids' – in fact oyster mushrooms, seaweed and sauces, the 'vegetarian steak' was Jack fruit, soya chunks, portobellini mushrooms, followed by 'Gobhi 65', a concoction of cauliflower, wheat flour, rice flour ginger, garlic, chillies and herbs. The only dish I totally understood was the sweet – apple crumble – no cream!
"We are the first restaurant in Belfast to introduce a full four course a la carte vegan menu along with suitable wines. All the dishes are made in the kitchen from local produce and we are ready for Christmas orders, just give a ring before hand to advise us of your needs." Soul Restaurant 028 9508 5917.
She confirmed that there's a huge increase in vegan and vegetarian customers.
"70% have some type of dietary requirement and we cater for all of them as well as those who wish standard meat based dishes."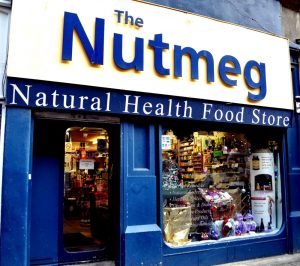 Conor McCullough owns The Nutmeg health shop in Lombard Street and he too finds that in the last 12 months the popularity of vegan ingredients has rocketed. He became vegan because he doesn't approve of animals being used for human consumption, for others it's an environment or health choice.
Supermarkets have increased their range.
"Whereas ten years ago I wouldn't even have bothered looking for a vegan restaurant, today I have a choice, some have a specific menu and others are happy if you get in touch before hand and discuss your needs." What will he have on Christmas Day? "I'll make haggis using ingredients like beans oats, cinnamon, all spice and seeds with a variety of vegan side dishes."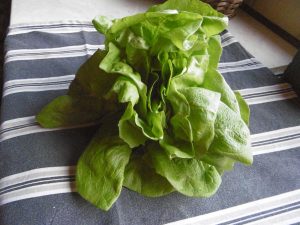 I'll be having lettuce and a nut roast. recipe from the Vegan Society, with all the regular trimmings and vegetables and I'll be just as happy and satisfied as those of the family who will be tucking into turkey and ham although the Christmas pudding with a dollop of cream might get the better of me.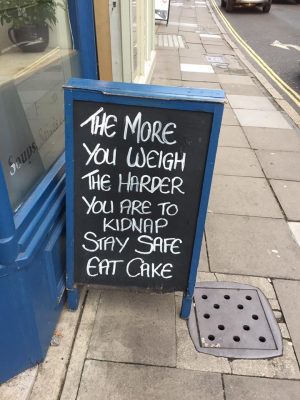 Keep warm and safe.