WEDNESDAY BLOG: CHRISTMAS SPIRIT, CLOWNS, SPIDERS AND DR. JOE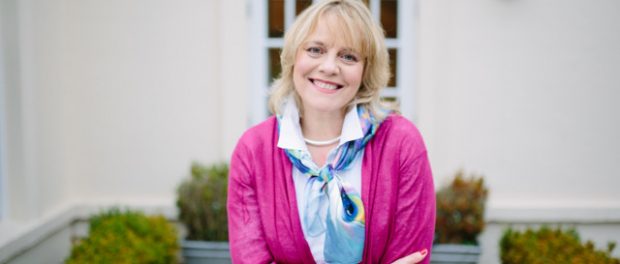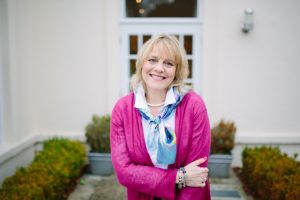 No Need To Worry Nor Complain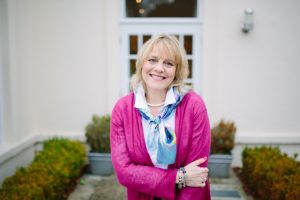 Almost there. Excitement or panic? Most of us are budgeting this week, even if you've been buying presents all year and putting aside money for the turkey there are plenty of families finding it very difficult and I suspect the stress levels amongst women of all ages are the highest. That's not being sexist just my experience, whether it's end of term results to worry about or the office party and the possible dangers when the big bosses have a few too many, or relationship bust ups that seem to excel in December and January. However, for all those women in the eye of the storm there are many more who will have a happy, relaxed well organised Christmas and according to Cai Graham they'll be the ones who take some time for themselves and delegate.
Cai Graham is a parent, author and councillor specialising in supporting families through chaos and trauma and under her umbrella organisation 'The Teen Toolbox' she has published a book and broadcasts a self-care advent calendar. At 10 a.m. each morning until 24th December tune into Cai live on Facebook and spend a few minutes, she promises, in an oasis of calm, themes concentrating on 'you' male or female, young or old, tips and techniques for coping delivered in a bright and breeze way and a relevant 'app' for everything.
From time to time in everyday family life, people need guidance. The old saying goes 'It's better to come from a broken home than to live in one', and with something like 51% broken homes in the UK it's a sad situation. The nuclear family is under great strain and this effects children, reports say nearly one in three is living without their father or mother.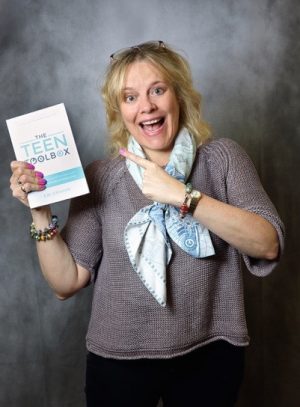 In her book, 'The Teen Toolbox, equipping parents and teenagers with the tools for navigating adolescence', Cai repeats that there are only two kinds of people in this world, drains and radiators and children respond best to the warmth, comfort and support of radiators! She advocates looking after yourself in order to be strong for others this Christmas, involve your children in everything, give them something to do, bake with them, don't tidy their rooms that's their responsibility, take a day off, during next week have a fish and chip tea instead of cooking and then delegate the washing up also, have a rota for shopping, ask your husband to call in the supermarket on the way home for little extras. Be organised and calm to save yourself additional anxiety.
"We expect understanding and respect from others, especially our children but children learn by observation the question is are they receiving understanding and respect from us."
Christmas is a time to think back to your own years of growing up. Mine were family with everyone piling into my granny's home and there was something for each of us to do, folding parcel paper neatly, the children organising a nativity play after the turkey was consumed, as the older members of the family would sit in the firelight and try not to snooze! Dishes were the bug bare – at our height we might have been 20 so you can imagine how long it took without the joy of a dishwasher – that was down to Dad and various helpers.
Although she won't do the dishes for you, Cai will offer you common sense suggestion to help you cope in a gracious way – people will be amazed at your relaxed attitude!
There'll be lots of electronic presents this Christmas and in her book she deals with social media and the dangers of technology: "The sooner we're able to guide our children through the minefield the better." She gives practical tips on keeping control and a checklist which includes bringing up sensitive subjects, talking to your child in a constructive way so not to alienate them and have them resort to secret urges.
She advises parents not to lecture their stroppy teenagers, let them lie in, at their age they need extra sleep but don't tidy their rooms for them! It's a delicate time when good sense and understanding is needed. Hard I know but worth trying.
"It is possible to breeze through Christmas relatively unscathed. It just boils down to a bit of support and a bit of carefully selected me-time, embrace next week with calm, good humour and a good old fashioned dose of common sense."
Just type Cai Graham into your Facebook page and catch a chat or, for her useful book, go to amazon.co.uk to order or download on Kindle before chaos sets in!
Monday of next week is the day, may it be full of the Nativity and Christmas joy, love and peace.
Goodbye To A Legend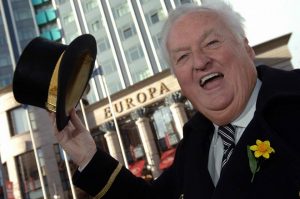 The death of Billy Hastings is a sadness to all who knew him. The tributes have poured in from all areas of life, chefs, staff, visitors, representatives from the tourist trade, those applauding him for giving so much employment especially to young people.  He never gave in even under the most trying circumstances.
A gentleman who held his friends and his public in his heart. He was so kind to me through the years, always supportive always appreciative – after an article I wrote I received a hand written letter saying thank you. Not dictated to a secretary but written as a personal message. I thank you Billy Hastings for your generosity and style. Your spirit will never die.
My sincere sympathies to Julie and Howard, your mum and your family.
There will be many sad families this Christmas, sudden deaths, long term illness and awful road conditions have robbed many of their lives, and many of those are young.  Six, possibly seven, killed in the early hours of the morning in Birmingham.  My grandmother was buried on Christmas Eve and there is always that little well of sadness at this time of year, the first death in the family for me and although she was an elderly woman she'd always been there for me and her other grandchildren, the grief we felt was deep and lasting.
My Man Won
Be Thoughtful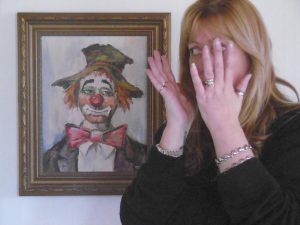 Children are very sensitive and sometimes we can overlook this, for instance news last week that a little boy was 'traumatised' when he saw an artificial reindeer in a Christmas grotto in England, he thought Santa Claus had killed Rudolph – not funny if you are only five. Fear is a very real emotion, a necessary part of growing up and, provided parents and family are sensitive, can be dealt with on the spot.
However, 'phobia', the Greek word for fear, is something different as it indicates a common anxiety disorder, defined by a persistent fear of an object or situation.
Could a young woman, who dreads this time of year, have a terrible fear of spiders because when she was little her mother played 'itsey bitsey spider climbing up the spout' and then roughly tickled her armpit whether she liked it or not? Could an 11 year old boy be afraid of clowns, known as Coulrophoia, because a man dressed in a clown outfit loomed over him appearing threatening and evil at a children's Christmas party? Like so many others, his reaction today even to a picture of a clown is sickness and shaking. Thanks Steven King for your horrifying books fuelling this fear. And if a mother screams when she sees a mouse and pulls her skirts round her in case it runs up her leg, might she give her child a life long fear of mice?
Are such fears rational or just part of growing up?
Dr. David Bell is a psychiatrist in general adult psychiatry and medical psychotherapy. He developed this fascinating subject by explaining that phobias and anxiety can have a positive side to them. The situation you find yourself in might be dangerous; an extreme example but if you meet a snake in the jungle that heightened fear will make you run away from the danger or tackle it head on.
Some people have an irrational fear of blood – enough to faint; a good thing in most cases as, when the body reacts in this way, it prevents the blood pressure from dropping.
On the other hand he explained that a phobia could be a process of growing up, fear of the dark is common amongst children but as they get older they can work out a way to cope with that fear. Everyone has a threshold for anxiety, that threshold is individual so each person will have their own way of managing often depending on temperament and tolerances. Sometimes there's a learned aspect from a family member, the mouse fear for instance, on the other hand a fear of mice contaminating food is reasonable and manageable and here parents can give reassurance. My mother was terrified of lightning and would hide in the hot press during a storm and it's taken me years to overcome my own fearful reaction. Sitting in Spain on holiday there was a fierce electrical storm out at sea, lightning of all colours forking on the horizon and it was beautiful, I'd no fear just a fascination. Then the electricity went off, the band stopped playing and the thunder rattled round the sky and I was terrified. Taught me something though, thunder is harmless and that was what was scaring me, and probably my mum. A learned experience.
"Almost all phobias can be successfully treated and cured," is comforting news from David Bell. "Rather than medications however, one to one 'talking therapy' is a very effective treatment for phobias and anxiety but best guided by a professional; sadly this area of medicine is much under resourced even though it's so important, however we now have Recovery College courses in each Trust area and here the sufferer can develop their own tool kit to cope through WRAP, wellness recovery action plan."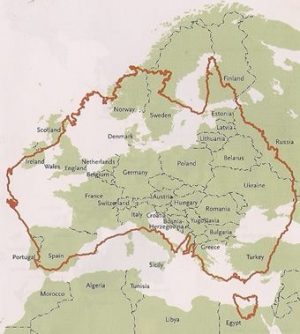 He also talks of another source of self-help, CCI Australia. "Because Australia is such a big place the Centre for Clinical Interventions in Perth West Australia has developed a website for people to access information on line."
http://www.cci.health.wa.gov.au/resources/consumers.cfm
Their section on panic attacks, and it's estimated one in 30 people experience significant panic attacks at some time in their lives, is very informative. They give the example of being confronted by a dangerous situation, it would be panic stations they say with the person going through a series of bodily changes, pumping heart, faster breathing, sweating in response to the danger confronting them. Dr. Bell confirms : "This alarm response would probably lead us to flight or fight so in fact it's an important survival mechanism."
More difficult is agoraphobia where the person can't leave the house or the common fear of flying both examples that make a normal existence impossible, work suffers, being unable to travel to another country on holiday or business, incapable of socialising on a day to day basis. Some people fear being trapped in a lift so they struggle to climb stairs which for some is very difficult physically but their only option. There are so many variations on the theme of fear with health being another big anxiety. For instance, I know a man who when visiting his friend with cancer, swallowed an aspirin every time he left the hospital in case he caught the disease, irrational but a real phobia.
All these examples would benefit from talking therapy, sitting with a sympathetic profession who is trained and able to tease out the background and so encourage a more positive outlook.
I asked Dr. Bell for some advice for parents. "In the first instance it may be a normal phase of development; remember it's not necessarily an illness, watch and wait and if you're convinced it's impacting on the child's everyday life, socially or at school, the GP is the first port of call. That's where you'll get the best and most positive advice."
Royal College of Psychiatrists online information leaflets-http://www.rcpsych.ac.uk/healthadvice/atozindex.aspx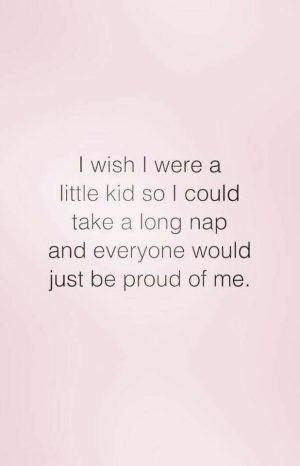 A Happy Christmas, have fun, remember those less fortunate and be thankful for all the good things in life.  Celebrate the power of love not the love of power.
See you in the New Year.