SUNDAY BLOG: Sartorial Elegance and a Double Take On New Year's Eve.
Congratulations to those who have been awarded New Year's Honours.  It's a special time and having kept your secret for over a month, now begin to celebrate, I know the feeling having gone through such excitement  this time in 2015.  All systems go for a visit to the palace and partying afterwards.
Have fun and well done to your sponsors who saw the good in you.  What a happy New Year gift.
The hustle and bustle of Christmas is over,  the market has gone and the Nativity will soon be put  away until next December.  Old Year's Night is upon us.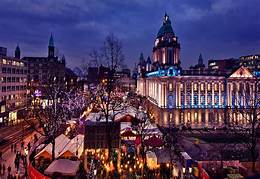 A time to look back for older people and look forward for the young although it all depends on your outlook on life.  I've read lots of good books, many of them written by local authors, seen some reasonable films and television has been something akin to a curate's egg – good in places – The Miniaturist will be hard to beat.  Simply stunning.
Television has been deadly over Christmas and into New Year, repeats and repeats with the odd jewel thrown in.  I've vowed on several occasions to stop watching EastEnders and Coronation Street but the lure of the 'wonder what happens next' is too much.  I think the writing, acting and direction is superb but, there's always a but, the plot lines are often outrageous especially at the moment.  I have visions of writers sitting round an oval desk, big windows on one side of the room and a huge coffee machine in one corner;  they have glasses of water and big note pads and they laugh as the ideas get more ludicrous.  I can hear one of them saying, "let's throw this at them, they'll love it, they'll just lap it up."  And we viewers do.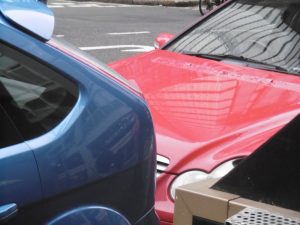 One thing annoyed me prior to Christmas.  I was parked in Bedford Street for just over an hour on 19th and when I came back the car behind had parked so close to me and the car in front had parked so close to me that I was unable to get out.  No obstruction when I parked so these two were most unreasonable and selfish.  I had to take a taxi home and then go back into town where the nice lady in Bryson House phoned me to say one of the cars had gone and I was free!  Two sides of the coin, selfishness and kindness.  Thank you Phyllis.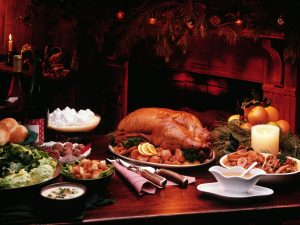 Christmas Day was all turkey and tinsel, boned this year and then stuffed and cooked before whisking it over to Lisburn to join the rest of the good things we had for lunch.  We were a party of 12 and the craic was great.  Thank you son, daughter, husband, grandchildren and new friends for a lovely day.  All too soon it was over with, for me anyway, very little stress!
But don't you wonder what tomorrow will bring, the beginning of a year of unknowns.  As they say, it's a good thing we can't look into the future.
2017 held such sadness for many families through illness and deaths.  We hear about the people in the public eye but the heartache in homes up and down the country is immeasurable.  Many deaths can be avoided if more care is shown, speeding on the road, drinking and driving, smoking and the rest.  Elderly people alone and shivering cold in this weather, neighbours do look out for them but maybe more of us should be aware and be more vigilant.  More power to the organisations who look after the homeless and the rough sleepers, they too need support with volunteers and especially financially.
On 22nd December the world of jazz lost another much respected member. Norman Watson first made his mark on the local jazz scene in the late 1940s as a teenager playing at Belfast Royal Academy school dances; soon he developed his skills as a guitar player to share a perform alongside the best jazz men of his generation. Fellow musician Bill Morrison recalls that, by the early 1960s, the Norman Watson Quartet regularly featured in the celebrated Queen's Festival Jazz Club together with other popular bands playing more traditional forms of jazz.  Belmont Swing College bass player David Smith talks of him playing with visiting American bands yet a man who didn't have a specific niche for his many talents.
By day Norman Watson worked as an architect, the rest of the time he played with bands, gave solo recitals and appeared on radio and on Ulster Television with Billy White and Tommy James. Such was his stature that when Julian Bream, one of the most distinguished classical guitarists of the 20th century refused to come to Belfast apparently because of The Troubles, it was Norman Watson who was asked to stand in for him.
Colin Hatrick first met him in the early 50's when they were students in the College of Art studying to become architects. Later Norman worked in the Department of Education on school designs but as Colin remembers even then they all repaired to Doc McIntees pub for Wednesday night's jazz sessions.
His interests evolved and in the 60s he was appointed a tutor at the newly formed Belfast School of Music where all styles of guitar playing was taught including jazz and classical and Norman was master of both.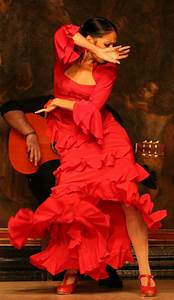 Even though an accomplished exponent of flamenco, when holidaying in Spain locals weren't impressed with this foreigner until one night in a square in the south of Spain, he convinced them and the word went round and musicians came from all over the village and beyond to join him, couples danced and he was toasted and accepted for what he was, an accomplished performer and as one colleague put it, a man of distinction in every respect.
Although his life was full of ups and downs, his music was always played to perfection and with a smile, musician David Hamilton called him a true gentleman.
Candy Devine send this message from her home in Australia.
"Oh dear! Another muso friend gone, it's so sad.
I remember when we were doing The White Line series for UTV. One day, during a camera rehearsal, I noticed he had a distinctly dark grey thumb nail on his right hand. He had broken the nail, which he needed for plucking the strings, and moulded on a new one from some DIY substance. It was long before acrylic nails became fashionable and Norman was making good use of his architectural talents. Little did he know, he could have been on to something big. Still, knowing Norman, he probably did know but was only interested in a way of getting through the gig – the jazz gig!
Condolences to the Watson family and RIP, Norman. I'm sure you're already making music with Billy White and Billy 'the Pine' McAlpine."
Norman, who died peacefully in hospital will be sadly missed by his many friends amongst the jazz fraternity. We offer our sympathy to his wider family circle.
New Year Is Upon Us
This time tomorrow 1st January 2018 will be well underway  – can you believe it? At one time the year 2000 was science fiction and so it has proved to be ever since. Women are now selling their breast milk on social media to other mothers, I suppose the equivalent of a wet nurse as was common in the past but one of the good advances I witnessed just before Christmas was  a young woman breast feeding her little baby in a cafe in the centre of Belfast and there was something so warm and loving about it and praise the Lord, no one paid any attention.
The big advance, although there are many disadvantages, is social media. You only hear the bad things and they are serious, especially the trolling and the bullying, an ill wind doesn't have a silver lining and the damage is enormous. But having a mobile phone is now an essential because the world has changed and keeping in touch is more difficult than ever such is the speed of life and there's a security about having the ability to ring someone in an emergency, especially where children are concerned. There are now 7.7 billion phone lines servicing a global population, more mobile phones than people; 15 years ago half the world hadn't even made a phone call. My own phone is basic, £28 in a supermarket but it takes calls and makes calls and that's enough for me, I was never a Filofax sort of a person. However, it has an awful keyboard and every message takes three goes, worn out I suppose, so I went into Tesco's to look for an update. The man didn't know too much about the phones on show, need to talk to the manufacturers to get details about putting words into the dictionary rather than having to spell them out every time. Then he had an idea. Turn off your predictive text! Before I could think, I was so horrified I told him: "Absolutely not, I depend on my predictive sex." Hasty withdrawal, and I left quickly too!
The last year has thrown up so many joys and sadnesses for us all.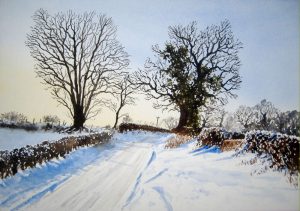 One of the joys was sharing the excitement of pure white snow in the garden a couple of weeks ago with a young neighbour aged nine. Teatime and about to sit down to eat when there's a knock on the door and the delighted smiling invitation to run down the garden and be the first people to walk on the pure white snow, a ten minute memory that will last for ever.
Let The Wind Blow Free
Weather forecasting has become an art form and an important part of television presentation. My birthday present to myself was a beautiful wall chart of the shipping areas, romantic and fascinating names and although local weather isn't my thing, what can you do about it, no such thing as bad weather only inappropriate clothing, I do love hearing what is important to deep sea fishermen.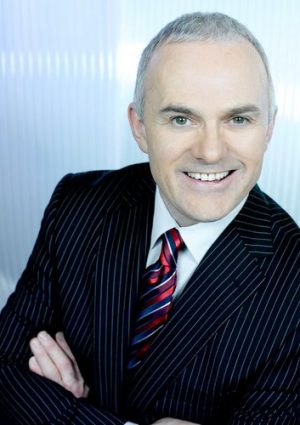 Having said that, congratulations to our local weather people, the ladies at BBC are so professional and informative as are the gentlemen and certainly Barra Best and Frank Mitchell wear the most impressive suits and dignify the worst of forecasts.
United Nations Trustee Visits Belfast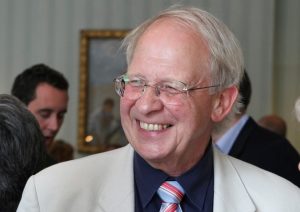 In October the Lord Mayor Councillor Nuala McAllister hosted a reception in her parlour in the City Hall to celebrate the 72nd anniversary of the United Nations. The guest was Dr. Carl Wright trustee of the United Nations Association UK who was most interesting talking about the role of the UN and its four main purposes, to keep peace throughout the world, develop friendly relations amongst nations, helping nations work together to improve the lives of poor people, to conquer hunger, disease and illiteracy and encourage respect for each other's rights and freedoms. Not easy but it was heartening to also hear from some 6th form students who are members of the Norther Ireland branch of UNA, one of 100 throughout the world, and how they are working towards and supporting these goals of harmony whilst raising public awareness of the UN itself. There is so much positive work going on and we never hear about it. I wish Stephen Nolan in his local programmes would help us towards a positive future rather than stirring the pot and inviting his Five Live cronies to put their oar in. He's a brilliant broadcaster and powerful on Five Live at the weekends but a lot of people agree he can be divisive locally going round in ever decreasing circles of vitriol.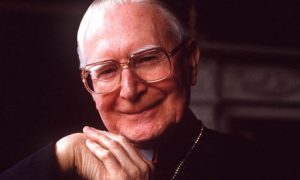 In October the centenary memorial lecture was held at Queen's University and the subject was Cardinal Cahal B. Daly (above).  It was given by Archbishop Paul Richard Gallagher, secretary for the Holy See's Relations with States who said it was a demonstration of his deep faith that he chose to fly into Belfast on Ryan Air at a time when thousands were being left stranded! Archbishop Gallagher quoted the Cardinal: "Northern's Ireland's problem is that of how to find ways of sharing two traditions not ways of suppressing one or other tradition or of subordinating one to the other. It's a problem of giving political expression to two equally valid loyalties, which each have an equally valid historic and moral right to be, and to be constitutionally recognised as being an integral part of Northern Ireland. Recognition of two Ulster loyalties, two Ulster identities, is an indispensable precondition of any solution to the complex problems of Northern Ireland."
Now you 'leaders' of our society, make an effort, get off your comfortable over stuffed cushions, get together and make it work, if not for your own generation then for those young people who are members of a global society and who want to be proud of Northern Ireland and what we can achieve working together.
I wish you a Happy New Year, a positive and healthy 2018 and lots of love.