SUNDAY BLOG: SAD AND SERIOUS TIMES AND OH MY LORD!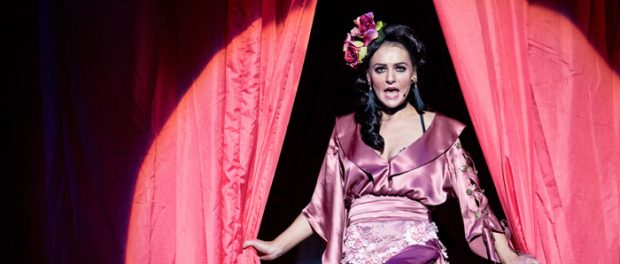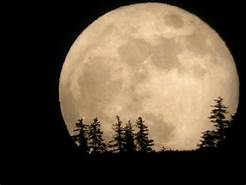 The beauty of the Super Moon last week was tinged with sadness; wakening up these mornings is a dread, turn on the radio, pick up a newspaper, tune into television news and there are tragedies, especially here at home.  Many families are grieving this morning, others consumed with worry or hoping for better news.  Be aware of your neighbours and friends and where you can offer help and comfort.  World wide people and communities are pulling each other apart, there's an evilness abroad, don't let it into your life and protect those you love by showing care and kindness.
War Crimes Examined
Two very interesting theatre events last week, Monday I was at the Belfast Synagogue for a production of the play Judgement at Nuremberg.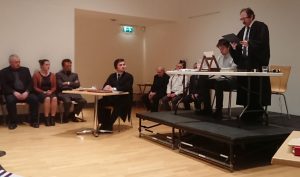 The audience make up the public sitting in the courtroom.   Three men are on trial plus a judge, council for the defence and council for the prosecution; even as the people involved file in there is tension.   It's hard to realise this is a play, a staged reading of Abby Mann's Judgement at Nuremberg presented by Ad Hoc Drama group.
As part of Holocaust Memorial Day Commemoration, producer Ciaran Hanna explains that the theme this year is The Power of Words and reminds us that words can make a difference both for good and for evil. Although this is a 1947 fictionalised trial, the three  members of the German judiciary soon become real people accused of crimes against humanity but who plead they were only following orders. However, as the American prosecutor points out, they in turn issued orders that sent millions to their deaths.
As eye witnesses take the stand the atrocities are revealed bringing a reality to the case, truth and justice is confronted with moral issues, survivors testimony is damning as each man in the dock is judged according to the evidence.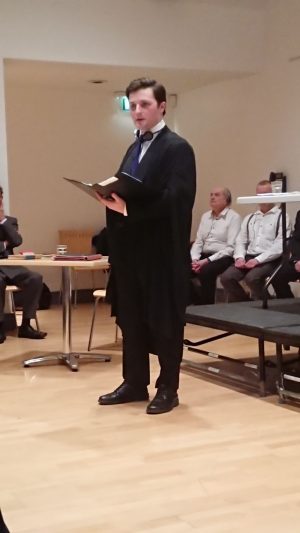 We are warned before the trial begins that we will see film of the liberation of concentration camps, actual footage shown at the Nuremberg Trials especially obtained from the Wiener Library for the Study of the Holocaust & Genocide in London, original and more horrifying than I have seen before underlining the dreadful evilness of the Nazi regime, the Third Reich.
Only Ernst Janning admits he is guilty of the crimes he's accused of, his German defence attorney tries to make him see sense, he's signing his own warrant but he seems contrite: "We never knew it would come to that."
And the question is asked, what about the rest of the world, the Vatican, Soviet Union, USA and Churchill – Germany alone was not guilty.
A sobering, thought provoking evening and this excellent amateur drama company sent their audience away with a lot to think about; a production  relevant at any time of year.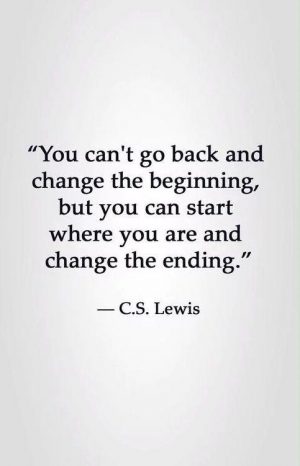 Beggar Man Thief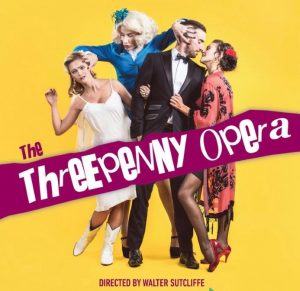 Wednesday was The Threepenny Opera at the Lyric Theatre Belfast.
Lyric Theatre Belfast.
London town and it's the eve of Queen Victoria's coronation. People are piling into the city and it's a paradise for pick pockets, thieves and villains and who better to lead the pack than Macheath, known as Mack the Knife, a mean dangerous low life who'd slit your throat as soon as look at you.
While they wait their chance of riches, someone has the bright idea of writing an opera to entertain the down and outs, a cheap production to give a laugh and fill in the hours before business begins. They called it The Threepenny Opera. 
A rag bag of characters, colourful and rather well dressed to be penniless beggars, their story twists and turns around Macheath (Mark Dugdale), a vicious sinister thug who takes out his over active libido on the women he meets, nice girls like Polly Peachum (Jayne Wisener) and Lucy Brown (Brigid Shine) and his ongoing relationship with drug addled madam Jenny Diver (the excellent Kerri Quinn). In this Brecht-Weill look at the underbelly of life there is an evilness, everyone out for themselves, a dark play with music although not dark enough for me, the undercurrents weren't there and Macheath wasn't sufficiently creepy or menacing although a convincing ladies man.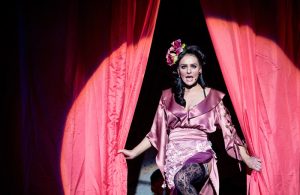 Kerry Quinn
From a musical perspective the marriage of the Lyric with Northern Ireland Opera and a fulsome band works well, the set is extraordinary, steep raked stairs from one side of the stage to the other and from top to bottom, a table flown in and a chandelier dropped down; with clever design two playing areas become available with trap doors for exits and entrances but my heart was in my mouth as the cast chased up and down the steps, always looking down to make sure of their footing. They'll get used to it but in a complex production just one more challenge.
Internationally acclaimed baritone Steven Page plays Jonathan Peachum and his wife is the tall sophisticated Matthew Cavan (also known locally as drag artists Miss Cherrie Ontop) with Richard Croxford a really sleazily Jackie Tiger Brown. Good supporting rolls from this cast of thirteen plus two horses!
Runs until 10th February 2018
www.lyrictheatre.co.uk
The Final Kick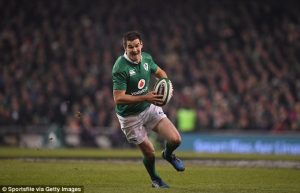 Well, there were a few near heart attacks yesterday late afternoon.  All looked lost when Johnny Sexton showed his brilliance and Ireland won their first match of the Six Nation championships.  And as for Jim Neilly!  What a star.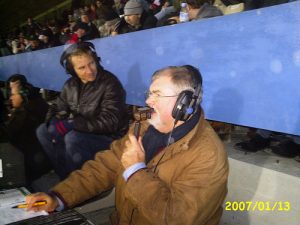 I grew up with Sammy Walker commentating and he was electric and Jim is just the same.  Radio Five keep replaying his wonderful commentary on the last seconds of the game "….. Oh my Lord ….. Johnny Sexton ….. A miracle drop goal …"
Rugby and rugby players are in the news for good and bad reasons and with time we will know the truth of the case being heard at the moment.  It's important young players concentrate on the positive side of the game and it was a school boy who asked me this question.   Why is Ravenhill now called Kingspan?


The rugby grounds formerly known as Ravenhill lost this identity four years ago Charlie when a new sponsorship deal was put in place with the Kingspan Group mainly involved in insulation contracts around the world. Based in Cavan and Portadown they have the jersey rights and their contract to name the stadium until 2023 and it's hoped beyond. According to Richard at Ulster Rugby there was a bit of discontent at the time of phasing out 'Ravenhill' and welcoming in 'Kingspan' but now 98% of punters and press have embraced the new name.
Model For Disability Care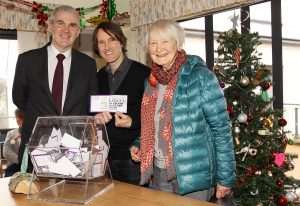 Local boy Tim Wheeler, song writer and vocalist with the rock band Ash drew the prize winners at the 25th Anniversary celebrations of Mainstay DRP Downpatrick.   With him are his mother and Brain Connor Danske Band.  Picture Philip Walsh
This is a story of success. Any 25th anniversary is important but for Mainstay DRP based in Downpatrick it's been a quarter of a century of important work where a charity has risen from nothing to being one of the top businesses in the area.
In the early 90s, a number of parents and carers of children with a learning disability living in the Downpatrick area wanted to give their young people a better model of care, a home from home where needed. They got together to address the lack of services available and so the Mainstay Downe Residential Project (DRP) was born.
What started as a one bed facility has grown to a complex of buildings with 250 clients and a professional staff of 172. Their newest scheme, Cumulos Heights, is made up of five buildings to complement existing accommodation, offering extended day care, respite care, two residential homes and a training and administration centre. Today 65 clients use the day care facility where activities include pottery, woodwork, horticulture and computer studies and of course the important aspect of socialising with others. There are 21 people in residential care and many families make use of the respite facilities, some for a two to three day stay, some for longer all designed to give family members a break to organise their own lives. Kate Laverty, an independent consultant with the charity told me that this is a busy organisation which has transformed the lives of many and offers employment to qualified staff and they are proud that recently the Regulation and Quality Improvement Authority visited and gave them a clean slate for the high standard of care.
Clients with a learning disability or autism involves numerous complex conditions and syndromes so every man and woman is an individual and treated as such. Getting out and about is vital to wellbeing so there are many events organised, including trips away to Strangford, Belfast to see the Giants Ice Hockey, visits to Titanic Experience – there is always something on the cards to make life stimulating and fun.
As well as all this the charity has eight houses in the community offering supported housing for those with learning difficulties who can live independently but need assistance to help with everyday tasks. Here staff from the charity provide 24 hours cover so the resident always has someone to help when necessary.
'Vocational training is another important part of Mainstay DRP. In the Gaoler's Kitchen cafe in the Down County Museum in Downpatrick, our clients cook in the kitchen and serve customers and have a hand in the running of the place. They learn as they work which means they can look for work elsewhere knowing they have the training needed."
What started as a facility in the Downpatrick area working with the South Eastern Trust has proved so successful that clients now come from other Trust areas proving that there's a growing need throughout Northern Ireland and the model of Mainstay is the answer. Fundraising is a constant part of every day life with families, clients and staff working hard to raise money for future projects. Already there's excitement about the Strictly Come Dancing night on 26th May at the Slievedonard Resort and Spa when staff, clients and friends will dance the night away whilst raising funds at the same time. But that's not all. "By way of a thank you for caring, DRP are inviting people to nominate a Local Hero, someone who has provided the best services to people with learning disabilities for instance, sometimes a customer is slightly afraid of having their hair cut it helps when the hairdresser is gentle and patient and explains what's going on. Sometimes people don't like every item put on the same plate when they are out for a meal so a waitress who is willing to bring three or four plates to divide the food makes all the difference."
It's a matter of thinking how to make life easier for others but how many of us do that?
The winner of the award will be selected by a committee of people living within Mainstay as they are in the best place to judge the five categories. restaurant, hair and beauty, bar, cafe, attraction and most accessible. Nominations are opening until 28th February.
Even with so many strings to their bow, Mainstay DRP manage to link them up to offer this critical service for many families who are often struggling to balance the challenges of everyday life supporting a disabled loved one particularly as they grow older at a time with a learning disabled population is growing in size and complexity.
More information – www.mainstaydrp.org